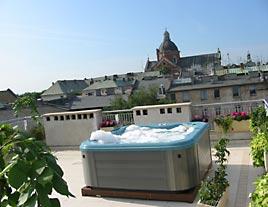 Welcome to Krakow For You
Krakow For You is the first company in Krakow, dealing with the professional rental of apartments. The company set a new standard in Krakow's market, based on the highest quality of services.
For the comfort and convenience of our guests all our apartments are located in the so-called Apartment House®. It is a modern system of apartment rental, based on locating them in one building, which is guarded and has a reception. It guarantees safety and eliminates all the inconveniences, which can be experienced by all those renting single apartments – often in neglected tenement houses and surrounded by doubtful neighbours.
All our apartments are equipped with bathrooms, kitchenettes, digital satelitte TV and they have an access to the Internet. An additional advantage is the fact that there is often a laundry, a sauna, a fitness club, a jacuzzi and a shopping area in the premises of our Apartment House®.
Our company is also a member of Polish B&B (Bed and Breakfast) Association, which enables our guests to buy breakfasts. All these conveniences aim at enabling our Clients both to relax well, and work in tranquillity
The offer of Krakow for You includes three Apartment House® of the highest standards, in the best locations in Krakow:
4 Grodzka Street - ApartmentHouse
(the corner of the Market Square)
3 Szczepańska Street - ApartmentHouse
(the corner of the Market Square)
4 Dominikański Square - ApartmentHouse
(the Royal Road)
Our apartments are situated in the vicinity of the Market Square, in the heart of the City, so our Guests do not have to worry about etting to the centre, and their stay in Krakow is filled with magical atmosphere of Krakow's Old Town.
ou are welcome to enjoy the offer of Krakow For You. We provide apartments of the highest standard, whose quality guarantee is the logo of the company and the opinion of over 12 000 satisfied Guests.
A member of Polish society of Bed and Breakfast